SUWANNEE COUNTY, FL
BUILDING DEPARTMENT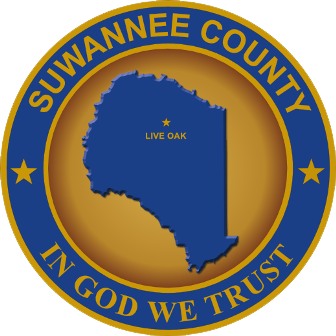 Welcome to the Suwannee County Building Departments Interactive Website.

ATTENTION CONTRACTORS, OWNER BUILDERS and ELECTRICIANS

EFFECTIVE JANUARY 1, 2019
PERMITS WILL NOT BE ISSUED UNTIL ALL SUBCONTRACTORS HAVE SIGNED THE ADDENDUM.

Patrick Taylor, Building Official
Effective January 1, 2021
The new 7th Edition of the 2020 Florida Building Code becomes effective. All construction permitted on or after this date shall be required to comply with this set of new codes.
This new code set rough draft may be viewed by visiting
Effective July 1, 2017
All new residential dwelling construction permitted July 1, 2017 or after shall be required to
have the Blower Door Test performed on the the new residential dwelling
(see Blower Door Packet in applications)
This site provides information and documentation to assist residents and contractors in acquiring a permit. Within this site you will find downloadable documents and online application forms. Please understand that no permit can be issued until payment for said permit is made! All payments must be made in person at the building departments office located at:
224 Pine Ave Live Oak, FL 32064
Hours of Operation
Monday-Friday
8:00 a.m. – 5:00 p.m.
No permits issued after 4:30 p.m.
For more information visit the
About Us Page